CAD Interface
AutoCAD / BricsCAD
AutoCAD is the most widely used CAD software in the world. It is easy to use, there is a large community behind it, a lot of documentation, and a lot of training material. Most drafters are familiar with AutoCAD and new detailers can be trained to master it with ease.
BricsCAD is very similar to AutoCAD in many ways, it uses the same file format, and is only a fraction of the price. Because each has its own advantages we feel the choice should be up to the detailer, so we are committed to supporting both platforms. Scroll down to read more about these two excellent programs.
The combination of AutoCAD and BricsCAD, with Parabuild's unique features results in an easy to use yet powerful solution for drawing 3D structural models. For steel detailing Parabuild benefits even more because of the extensive 2D and dimensioning tools in both applications
Complete integration
Parabuild was completely integrated with both platforms. Here are some examples of this:
Osnap interface
You can use the powerful object snapping tools on any of the Parabuild entities and sub-entities.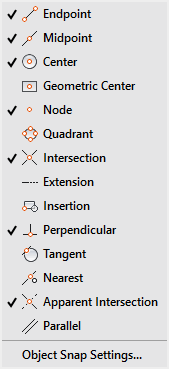 Object Property Manager (OPM)
Parabuild objects can be modified, searched and filtered through the powerful OPM interface. This helps you make changes to many objects at the same time with minimal effort.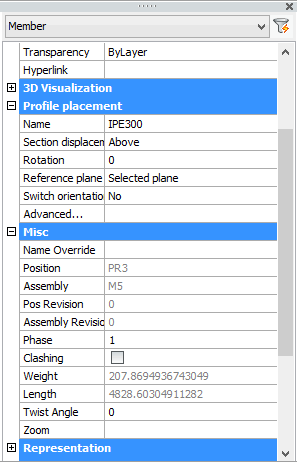 Standard commands
The standard commands can be used on Parabuild objects. That includes stretch, move, copy, array, mirror, …
DWG file format
Parabuild drawing information is entirely contained in the .dwg file, the most pervasive CAD file standard. The same drawing file is used in both AutoCAD and BricsCAD, so there is no need to convert drawings and you can freely switch between both platforms at any time.
Easy to learn
Both platforms are easy to learn and if you are familiar with one of them, using the other will feel quite natural. Combined with the intuitive and efficient features of Parabuild this results in an environment that gets you to productivity quickly.
Extensive dimensioning tools
AutoCAD 2D sketching and dimensioning tools are popular and refined through decades. BricsCAD works similarly and has tools that are just as powerful and easy to use. Parabuild takes full advantage by drawing all automatic dimensions as native AutoCAD/BricsCAD dimensions making it easy for the detailer to make changes when needed.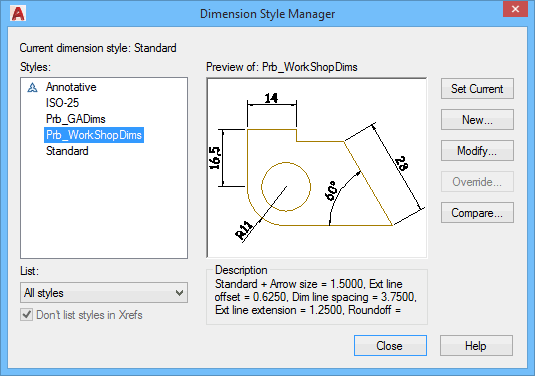 3rd party applications
Both platforms are open development platforms. That means 3rd party applications are available for a wide variety of CAD sectors, and these apps can be used simultaneously in the same drawing. The fact that all 3rd party apps work inside the same CAD environment and on the same drawing, is a unique environment that gives the draftsperson the freedom to combine many different disciplines within the same CAD environment. AutoCAD and BricsCAD are very popular development platforms, which has resulted in the availability of thousands of 3rd party applications on these platforms.
Additional visibility tools with Parabuild
AutoCAD and BricsCAD have many powerful functions that allow you to visualize your 3D model : visual styles, slices, view limitations, object hiding, transparency, etc… Parabuild adds extra visibility tools that are specific for structural steel detailing and they allow you to save time while modeling, or provide you with a better insight in the model.

AutoCAD or BricsCAD: two good choices
The choice between AutoCAD and BricsCAD is mostly one of preference. Both are good platforms and will help you get the job done efficiently. Parabuild is equally powerful on both platforms and we aim to keep it that way.
AutoCAD is the industry standard DWG platform. In development since 1980 and with millions of users, AutoCAD is a CAD environment that has been refined for decades. It is the current market leader for general CAD software. There are thousands of 3rd party applications based on the platform, whatever you need it will for sure exist as a 3rd party app on AutoCAD. We have been a Autodesk Developer Network (ADN) member for over 20 years, and we consider it an excellent CAD application.
BricsCAD is fully compatible with the DWG format. BricsCAD offers the same features as AutoCAD, and in some cases more. BricsCAD costs only a fraction of the price of AutoCAD. While there are currently less 3rd party apps on BricsCAD, this is rapidly changing. Some unique features in the premium versions of BricsCAD are direct modeling, an impressive sheet metal module and improved AEC tools. The team working on BricsCAD is very open and dynamic and is supportive and responsive to us as developers. This makes it a joy to have them as a partner and a very good choice as a CAD platform.