Restore Group Selections
Command - PrB_ResetGroups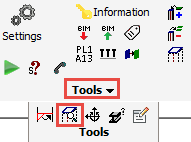 This tool rebuilds all the groups in the 3D drawing, based on the weld data that Parabuild has stored for all the parts.
This tool can be used if the selection groups are mismatching the actual welds.
Parabuild always manages the selection groups so that they perfectly match with the actual weld data.
But the selection groups could become mismatched after a corrupted 3D drawing was repaired.