Macro
The 'Macro' object type has the following headings: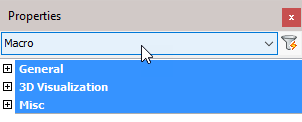 General: Is common to all object types, and covers general AutoCAD and BricsCAD settings, including: Color / Layer / Linetype / Linetype scale / Plot style / Lineweight / Transparency / Hyperlink / Handle /
3D Visualization: Is also common to all object types and includes: Material.
The material that is referred to here is only the visual representation material. For changing the actual material of parts, see the Additional Data section of plates, profiles or structures.
Misc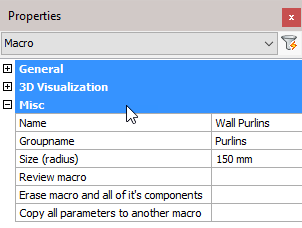 Name: The name of the macro – this may be edited and will reflect in the macro dialog box
Group name: The group name of the macro – this value is used for grouping together similar macros in the macro dialog box
Size (radius): Adjust the size of the macro sphere
Review macro: Activating this button will open the macro edit dialog box for the selected object
Erase macro and all of its components: Will Erase macro and all of its components
Copy all parameters to another macro: Will Copy all parameters to another macro