Views
In this dialog you can configure all of the views that should be drawn on the sheet.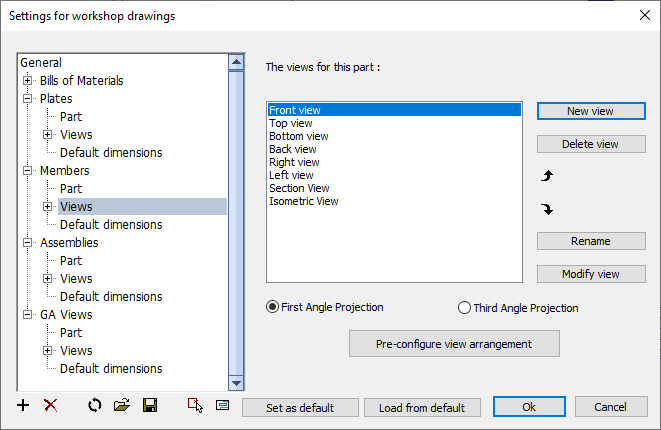 In this dialog box you can change the following options :
New view - Create a new view by entering a unique name
Delete view - Enables you to delete the selected view
Rename - Enables you to rename the selected view
Modify view - For more information about this, see the Modify view settings topic
First angle projection - First angle orthographic projection is used often in the EU


Third angle projection - Third angle orthographic projection is used widely in the USA


Pre-configure view arrangement - Allows you to change and re-arrange the views of the profile or assembly settings.
Note
Using the Pre-Configure dialog box as well as the First/Third angle radio buttons can cause a reset of all of your views.
It is therefore best to first use the Pre-configure dialog to configure the views.
If needed after that you can tweak the arrangement some more with the View Settings and Configure view directions dialogs view.