Connect Post
Command -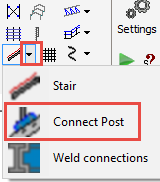 This command will apply handrail stanchion connections to a beam of stair stringer
Select the beam or stair stringer and Parabuild will automatically detect the angle of the stair stringer and adjust the connection orientation to suit.
Then select the post and press Ok - The default connection will be drawn - Pressing <Enter> will open the connection edit dialog.
Note! Ensure that the handrail post is properly located on the stringer to accommodate the selected connection. For more information on this go to - Stairs / Handrail / Railing
For more information on editing macro dialog boxes see the Review macro topic.