Railing Intersection Conns.
Command - PrB_AddRailingInterConns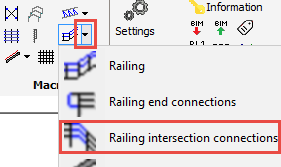 This command can connect 2 railing segments.
The railing segment command already does this automatically.
But there may be instances where a handrail closure must be added manually.
This command has 2 distinct methods :
Automatic Method
This method is unique, because you just need to select the handrails and the last posts.
It does not matter if you select more posts or knee-rails. The sequence is also not important.
Parabuild will try to automatically connect all the members in the selection using the connections in the chosen library group.



1

Select and delete the unwanted macros




2

Block select the handrail stanchions - Press <Enter>




3

The returns are automatically drawn
Manual Method
Right after starting this command, press the <Enter> button without selecting anything.
This brings us to the manual method.
Now you will have to select both the handrails and the posts.
After that you will have the option to choose any of the connections in the group :